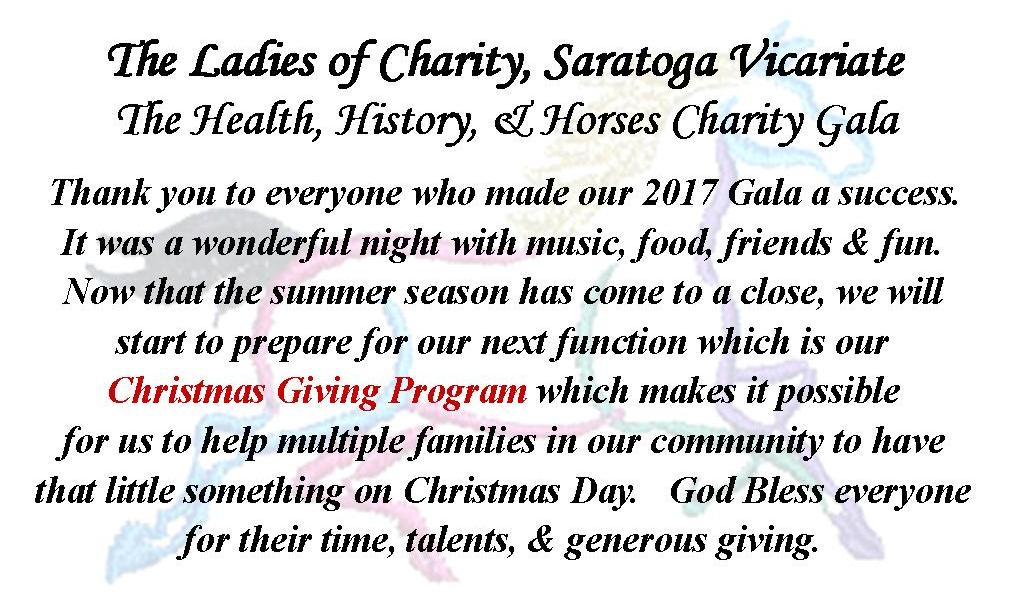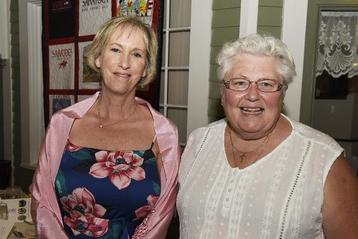 Beth Todd & Claudette Farchione, the co-presidents of the Ladies of Charity, greet guests at a gala Aug. 17.



The Ladies of Charity Saratoga Vicariate Health, History and Horses Charity GALA treated guests to sumptuous hot and cold food stations and cocktails while enjoying the music of The Gene Usher Ensemble on Thursday, Aug.17.

Longfellow's Restaurant was filled with silent auction items from hand-crafted stenciled mirrors, a Saratoga Racetrack T-shirt quilt, jewelry, Saratoga memorabilia, many gift certificates, and gift packages.

Attendees were welcomed by Beth Todd, co-president, who declared bidding on the silent auction open for the evening. Guests enthusiastically bid on several items including gift certificates for Saratoga restaurants, greens fees, theater tickets, spa and beauty services, auto care, food markets and overnight stays.

The four seasons provided the theme for Ladies of Charity members to once again show off their talents in creating gift baskets, overflowing with local area gift certificates for food, flowers, candy, personal care products, area restaurants, garden and hardware products, books, movies and wine for raffle.

The mission of the Ladies of Charity is to embrace the ideals of St. Vincent de Paul and St. Louise de Marillac to help the poor. Members strive to break the cycle of poverty in the community and in the world by advocating for social change.

In 2016, Ladies of Charity contributed $17,100 in support of community charity programs in Saratoga, Washington and Warren counties through annual fundraising activities.

The Ladies of Charity also offered special thanks to Ned & Pat Reo, Adirondack Trust Co., Specialty Silicone Products, and Roohan Realty for their generosity and support.


---