Our Mission
​The Mission of Ladies of Charity is to embrace the ideals of St. Vincent de Paul and St. Louise de Marillac to help the poor. Members strive to break the cycle of poverty in the community and in the world by advocating for social change.

Funds raised are distributed annually to established charities in Saratoga & Warren/Washington Counties: Catholic charities; food kitchens; shelters; tuition support programs.

Ladies of Charity, the first of the great foundations of St. Vincent de Paul, was established in France in 1617. Ladies of Charity of the United States of America began in St. Louis, Missouri in 1857.

The Saratoga Vicariate of Ladies of Charity was founded in Saratoga County at an informational and organizational meeting on January 14, 1982. On April 2, 1982, the first annual luncheon was held and on June 10th, 1982, Jean Lynch was installed as the first President of the group.

"We do not have to do great things, only small things with great love." Blessed Mother Teresa

The Ladies of Charity perform charitable works by serving the material and spiritual needs of the sick, the poor, and the marginalized of our society.

Examples of these services are: visiting the sick, the aged, and the dying in their home or nursing homes; working with soup kitchens, food banks, and homeless shelters: working with children in literacy programs including providing scholarships.
​

---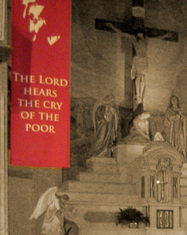 If you would like to contact us please fill in the form below.
We welcome new members. Please visit our membership page.

---